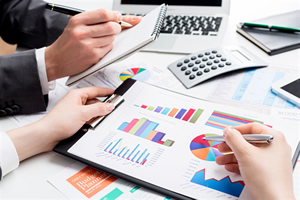 Our management accounts service provides business with up-to-date financial information. This is the key to effective business development. Rather than simply producing a few extra sets of accounts each year, we will go the extra mile by analysing the figures in depth and meeting with you each month or quarter to discuss what these figures mean for your business. This analysis of key areas will add real value to your decision making process.
We prepare management accounts for businesses ranging from small owner-managed business, to large groups and to large charities. We will report on the business as a whole or by department/division. Not only does the information we provide give management teams the insight needed to plan and monitor strategies, they will also be able to spot trends before it is too late, and to explain the business clearly and accurately to third parties.
Other real benefits of producing management accounts include:
Reduce your cost base, and release your valuable time by outsourcing this key support service to us.
Producing management accounts can lead to opportunities for greater tax planning, by helping you minimise or defering your tax liabilities.
Up-to-date management accounts can ensure that you only take dividends from your company when they are legally available, avoiding unnecessary tax liabilities.
The process of finalising your year-end accounts will be much faster – allowing you to know your financial position and tax liabilities very quickly after your year end and more cost-effectively.